Interstellar | As principais críticas internacionais
Já não ha dúvidas de que Interstellar, o novo filme de Christopher Nolan, é um dos marcos cinematográficos do ano, senão mesmo da década.  Um daqueles raros filmes que vão ficar na memória de todos e no coração de muitos. Eis um overview  sobre as primeiras manifestações da crítica internacional
CHICAGO SUN-TIMES "★★★★" (4/4)
"A beautiful and epic film"
"Filled with great performances, tingling our sense with masterful special effects, daring to be openly sentimental, asking gigantic questions about the meaning of life and leaving us drained and grateful for the experience"
"Christopher Nolan's most ambitious work yet"
 "It contains some of the most memorable, most breathtaking outer space scenes since Kubrick's masterpiece"
"Interstellar soars to the heaves and beyond"
"Nolan is such a masterful filmmaker and storyteller"
"The Earth-bound story alone could have made for a great film. But we're just getting warmed up"
"Interstellar is painted on the grandest canvas imaginable"
"McConaughey has never been better"
"Foy is devastatingly effective"
"Please do not wait to see this film on a device you can hold in your hand"
"Jessica Chastain deserves best supporting actress consideration for her work as Murph"
"This is one of the most beautiful films I have ever seen – in terms of its visuals, and its overriding message about the powerful forces of the one thing we all know but can't measure in scientific terms. Love"
Richard Roeper, CHICAGO SUN-TIMES
LOS ANGELES TIMES
"Blockbuster"
"The rarest beast in the Hollywood jungle"´
"Intelligent"
"Epic"
"Sophisticated"
"Emotional"
"Immersive visuals"
"Powerhouse trio of Matthew McConaughey, Anne Hathaway and Jessica Chastain"
"McConaughey at his most casually charismatic"
Kenneth Turan, LOS ANGELES TIMES
NEW YORK TIMES
"Terrifically entertaining"
"A sweeping adventure"
"Brilliant
A.O. Scott, NEW YORK TIMES
NEW YORK POST "★★★★" (4/4)
"Interstellar is the most exhilarating film this century."
"Soulful"
"A Must-See Masterpiece"
"Exhilarating"
"Heartfelt"
"Gorgeous"
"Epic"
"Flawless"
"Genius director Christopher Nolan reaches for the stars in 'Interstellar' – and delivers a soulful, must-see masterpiece one of the most exhilarating film experiences so far this century."
"Brainy, heartfelt, gorgeous and flawlessly acted sci-fi epic."
"McConaughey is terrific."
"[Murph] ferociously good Jessica Chastain."
"[Nolan] is perhaps the most visionary director working today."
  "A sublime trip to the movies."
Lou Lumenick, NEW YORK POST
NEW YORK DAILY NEWS "★★★" (3/5)
"McConaughey is a solid anchor."
'Foy and Jessica Chastain lend subtle depth."
 Joe Neumaier
VARIETY / THE BOSTON HERALD
"'Interstellar' reps the very best big-budget Hollywood craftsmanship at every level…"
"'Interstellar' begs to be seen on the large-format screen"
Scott Foundas, VARIETY or THE BOSTON HERALD
ROLLING STONE
"Enthralling."
"You've never seen anything like it."
"Interstellar is nirvana for movie lovers."
"McConaughey partners beautifully with the sublime Chastain, who infuses Murph with amazing grit and grace."
Peter Travers, ROLLING STONE
TIME
"Few films dare to reach so high."
"An undeniably beautiful film."
"Interstellar is a must-take ride."
"Spectacular."
"Nolan's biggest, boldest project."
"If the heard of Interstellar is Coop's bond with Murph, its soul is McConaughey's performance as a strong, tender hero"
"Viewers can hear their hearts beating to the sound of awe.
Richard Corliss, TIME
ASSOCIATED PRESS
"'Interstellar' is a sublime cosmic knockout."
"'Interstellar' is a cosmic knockout."
"One of the most sublime movies of the decade."
"'Interstellar' is something to behold."
"A celestial warmth shines through 'Interstellar'"
"Nolan and his cinematographer, Hoyte Van Hoytema, conjure beautiful galactic imagery, contorting space and, eventually, dimensions."
"Moving and sentimental."
"Interstellar rockets home."
Jake Coyle, ASSOCIATED PRESS
THE HOLLYWOOD REPORTER
"Interstellar so bulges with ideas, ambitions, theories, melodrama, technical wizardry,
wondrous imagery and core emotions."
"Grandly conceived and executed epic."
"Engrossing."
Todd McCarthy, THE HOLLYWOOD REPORTER
ENTERTAINMENT WEEKLY (B-)
"Sci-fi spectaculorama"
"Chastain, Hathaway, and McConaughey are authentic, emotive performers."
"Hans Zimmer's hysterical score, tugs strenuously at our heartstrings."
 Joe McGovern, ENTERTAINMENT WEEKLY
VULTURE/NY MAGAZINE
"It's hugely entertaining."
"Foy and Chastain are an excellent tag-team."
David Edelstein, VUTURE/NY MAGAZINE
ACCESS HOLLYWOOD
"It delivers"
"Wow"
"Big, bold, beautiful film."
"A sublime film."
"A sublime film with great special effects."
"One of the year's best films."
Scott Mantz, ACCESS HOLLYWOOD
THE NEW YORKER
"The basic color scheme of the space-travel segments is white and silver-gray on black, and much of it is stirringly beautiful."
"Beautiful"
"There's no doubting Nolan's craft."
"Spectacular."
David Denby, THE NEW YORKER
AM NEW YORK "★★★" (3/4)
"It's a work of extraordinary ambition that lodges itself in your mind if not your heart."
"It's a cinematic trip worth taking."
Robert Levin, AM NEW YORK
ROGEREBERT.COM "★★★" (3.5/4)
"Interstellar is still an impressive, at times astonishing work."
"Pure and powerful."
"Interstellar has a defiantly old-movie feeling."
"McConaughey, a super-intense actor who wholeheartedly commits to every line and moment he's given, is the right leading man for this kind of film."
Matt Zoller Seitz, ROGEREBERT.COM
SLATE
"[Nolan] His strengths: evoking a sense of visual awe, crafting balletically sleek large-scale action sequences, and cast actors who deliver fierce and memorable performances."
"The movie's middle third is visually and technically breathtaking."
Dana Stevens, SLATE
INDIEWIRE (B+)
"A genuinely moving spectacle."
"Visually masterful and rich with ideas."
Eric Kohn, INDIEWIRE
HITFIX
"[McConaughey] He gives himself over to it 100% and that sincerity is amazing."
"There's a lot of 'Interstellar,' particularly in 70MM IMAX, that is just jaw-dropping."
"The way Hoyte Van Hoytema shoots the sets and the locations is thrilling, and there are images that are a reminder of just how much awe should be felt before calling something awesome. Nathan Crowley's production design never feels like he's making 'movie' choices, but instead is pushing towards function and reality. The work by Paul Franklin and Scott Fisher and the rest of the amazing visual effects crew is seamless and invisible, and they deserve credit for grounding it as much as they do, even when asked to do the fantastic."
Drew McWeeny, HITFIX
FIRSTSHOWING.NET
"Epic, thought-provoking and emotional."
"An exhilarating science fiction creation that once again reminds us that we can dream, that we get to breath this fresh air on this beautiful planet, that we get to smile, cry and laugh."
"Very rarely do modern movies balance both story and spectacle, combining breathtaking visuals with deeply felt emotions."
"It's all about the feelings, the exhilaration, which is achieved through technical mastery and storytelling genius, and with 'Interstellar' we get the very rare, immaculate balance of both."
"This movie once again reminds u to wonder where our place is in an incredibly vast universe outside of the solar system."
"The entire experience expands our horizons towards the greatest possibilities of Interstellar exploration."
"Matthew McConaughey carries the weight of this massive emotional adventure on his shoulders and does a fantastic job giving it his all."
"Everyone else is impressive, with minor roles throughout getting excellent performances from talented actors. One of my favorites is David Gyasi."
"A bold and epic creation worthy of vigorous discussion."
"I'm looking forward to taking a second look"
"Excited to go back for another ride"
"Nolan borrows and then re-imagines in a way that is fresh and exciting"
"It is thrilling and captivating and powerful and exciting"
"Seeing him go wild bringing us the awesome splendor of space in 70MM IMAX is indeed jaw-dropping to watch"
"A magnificent experience when it expands into 70mm. This movie is what movie theatres are made for, and Nolan knows that, utilizing every inch of the screen with sound & music that will rattle your bones and make you smile."
"The power of 'Interstellar' is in its ability to create and encourage discussion about the universe we're in."
"It's as exciting and emotional to think about as it is to watch."
"It's science fiction cinema on the grandest of scales that explores our hopes and dreams as humans in an emotionally affecting yet awe-inspiring way. It is capable of showing us, through love, through hope, that we can look up at the stars again and dream about exploring the cosmos the way we used to. Nolan has reached deep to show us it's still possible to push humanity farther than we've ever been, while never forgetting where we came from as we look beyond this tiny planet that, for now, we call home."
Alex Billington, FIRSTSHOWING.NET
COMINGSOON.NET
"A Fantastic Script."
"Matthew McConaughey […] gives an incredibly emotional performance."
"It's Jessica Chastain who really delivers another showstopping performance"
"[The] film just looks fantastic"
"Anyone who thinks they know what Nolan's other frequent collaborator Hans Zimmer is capable of should be pleased with what he brings to 'Interstellar' which contributes to its unique sonic identity as well as drawing out the most emotion possible in the more dramatic moments.
"It's a fantastic score, easily one of Zimmer's Best."
"Christopher Nolan's love letter to space travel and exploration of the stars […] offers an incredible emotional payoff along with its visual spectacle"
Edward Douglas, COMINGSOON.NET
MOVIEPILOT.COM (9/10)
"This film takes you on a mesmerizing adventure through outer space like no other sci-fi I've seen."
"An epic sci-fi/adventure story."
"The casting and performances from the actors were top notch. It felt like every actor had their moment to shine and show off their skills."
"Matthew McConaughey was truly on his A-Game as Cooper."
"This young lady [Foy] knocks it out of the park when it comes to intense dramatic scenes between her and McConaughey."
"John Lithgow was so funny and brought much needed joy into an otherwise tense film."
"These women [Hathaway/Chastain] are fantastic!"
"The lead female characters are written exceptionally and you don't see that in many blockbusters. Christopher and Jonathan Nolan did a great job casting their team."
"Nobody disappoints in this movie."
"The audience gets only the best performances."
"Gorgeous! It's an absolute must to experience 'Interstellar' in IMAX…truly breathtaking."
"Hans Zimmer is a musical God!"
"'Interstellar's' score ranges from epic sci-fi and drama, to thriller and even horror vibe."
"'Interstellar' has Oscar written all over it. This is a great movie that ALL moviegoers will truly enjoy. I would give 'Interstellar' 9 out 0f 10!"
"This is – without a doubt – Christopher Nolan's best film. He tells a fantastic story that had me on the edge of my seat for the ENTIRETY!"
"This was entertainment at it's BEST!!!!"
"If you're looking for great performances, a magnificent score, mind-blowing special effects, plus sound and cinematography to match, then look no further because 'Interstellar' has arrived on planet Earth."
Evan Lee, MOVIEPILOT.COM
IGN (8/10)
"At its core, 'Interstellar' is a quintessentially Christopher Nolan film. It's gorgeous. There can be no doubt that Nolan is in many ways a technical genius with an admirable emphasis on practical effects, as well as an ability to deliver stunning examples of what utilizing those tools can mean for an audience."
"An in-theatre event"
"When it comes to esthetics, Nolan truly is a visionary."
"Nolan also demonstrates his directorial acumen in the casting. Each role is perfectly suited to the actor."
"The performances are exemplary"
"Is as visually spectacular as an audience would hope for, expect, and demand of Nolan."
Roth Cornet, IGN
THE POPCORN JUNKIE "★★★★" (4/5)
"Interstellar is an awe-inspiring journey."
"A heartfelt science fiction tale."
"Interstellar is a reminder of the power of seeing a film on the big screen."
"Its ambition is grand, stunning to behold, and humbling."
                        Cameron Williams, THE POPCORN JUNKIE
FOX TV
"Brilliant"
"Christopher Nolan's masterpiece"
"One of the best films of the year!"
"The best film I've seen this year, so far"
"Stanley Kubrick would be proud! An immersive masterpiece that must be seen in 70mm IMAX"
"A flick that reminds me why I love going to the movies!"
"Hans Zimmer's best score to date"
Kevin McCarthy, FOX TV
FOX NEWS
"Matthew McConaughey shines."
"McConaughey once again gives a knockout performance."
"McConaughey is better with each film and this is one of his best."
"It's a beautiful, inspiring performance."
"Interstellar is often superb and a marvelous movie-going experience."
"Interstellar features some astounding set pieces, gut-wrenching suspense and trippy atmospherics."
"Jessica Chastain [..] really shines."
"Chastain is delightful."
"Hoyte Van Hoytema's stunning cinematography."
"There is some gorgeous craftsmanship at work here and Interstellar is best seen in IMAX."
"Composer Hans Zimmer's score acts as the life-force."
"Zimmer's score is one of the composer's most colorful and impressive, providing an almost holy aural landscape."
"Interstellar could prove to be a contemporary science fiction classic."
Justin Craig, FOX NEW
INTERSTELLAR | PREMIERE DE LONDRES
O countdown para a antestreia de Interstellar, o filme de Christopher Nolan que é sem sombra de dúvida, um dos mais desejados acontecimentos cinematográficos do ano, está prestes a se esgotar. E nesse momento poderás aqui acompanhar o LIVESTREAM que acompanhará o evento entre as 18h00-19h00. Estão previstas as presenças de Matthew McConnaughey, Anne Hathaway, Jessica Chastain, Christopher Nolan e Emma Thomas, assim como algumas entrevistas dos mesmos.
Não percas – quarta feira, 18h00
INTERSTELLAR | LIVESTREAM
INTERSTELLAR | GALERIA PREMIERE LONDRES
Interstellar nos cinemas a 6 de novembro
INTERSTELLAR | FICHA TÉCNICA
Título Original: 

Interstellar

Realização: 

Christopher Nolan

Elenco: Matthew McConaughey, Anne Hathaway, Jessica Chastain, Michael Caine

Argumento:

Christopher Nolan, Jonathan Nolan



Produção: Christopher Nolan, Lynda Obst, Emma Thomas

Twitter: https://twitter.com/WarnerBros_PT
NOS | EUA, Reino Unido | 2014 | Aventura, Ficção Científica, Mistério | 169′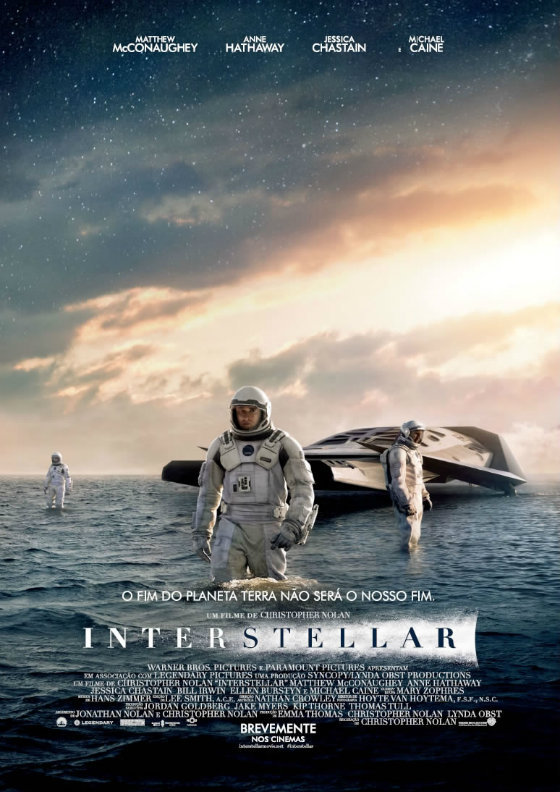 TRAILER
SINOPSE
Com o nosso tempo no planeta Terra a aproximar-se do fim, uma equipa de exploradores é enviada na missão mais importante da história da humanidade: Viajar para além da nossa galáxia para descobrir se a humanidade tem futuro entre as estrelas.
Para conheceres as restantes ESTREIAS da SEMANA consulta a nossa Home Page.